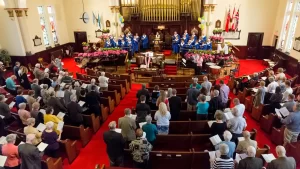 Worship begins at 10:30 am on Sunday mornings in the sanctuary and online.
The sanctuary is on the second floor of the building. It is fully wheelchair accessible with an elevator located just inside the front doors.
At Knox, we strive for relevant, uplifting and celebratory worship services that are not defined by any one genre of music. We seek to build on the traditions of our past and the magnificence of our sanctuary to create opportunities for all to meet Christ in song, scripture, prayer and the preached word.
Knox broadcasts weekly worship services on Rogers Cable, and broadcasts live on Youtube and Facebook.
Would you like to a written version of last Sunday's sermon? Email the minister at m.currie@knoxstthomas.ca and we will make sure you receive a copy.
Got some more questions about worship at Knox? Check out the New to Knox page.